ACR: TREMFYA Improves Pain, Physical Function, and Fatigue in PsA Patients Through Six Months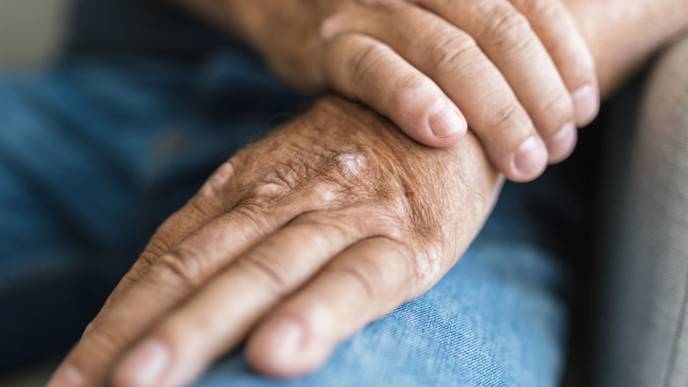 11/08/2023
Substantial numbers of people living with treatment-resistant active PsA who used TREMFYA (guselkumab) in real-world settings reported meaningful improvements in pain, physical function and fatigue through six months, according to new data from the CorEvitas Psoriatic Arthritis (PsA) and Spondyloarthritis Registry.
Additionally, treatment with TREMFYA was associated with higher rates of clinically meaningful improvements in a composite assessment of patient-reported pain, fatigue, physical function, skin problems and PsA-related depression than placebo in the first assessment of the PsA 5-Thermometer Scale Domains (PsA-5T-Ds) across the DISCOVER-1, DISCOVER-2 and COSMOS clinical trials.
These study results were presented at the American College of Rheumatology (ACR) Convergence 2023 meeting in San Diego, CA. TREMFYA is the first and only fully human selective interleukin (IL)-23p19-subunit inhibitor therapy approved for adults with active PsA.
"People living with active psoriatic arthritis who are treatment-resistant need options that improve debilitating symptoms of their disease, like pain, physical function and fatigue," says study author Philip Mease, MD, Swedish Medical Center/Providence St. Joseph Health and University of Washington in Seattle, Washington, in a news release.  "It is important that we assess patient-reported outcomes in a real-world setting, ensuring that we address unmet needs for people living with this challenging disease."
In this analysis of the CorEvitas registry data,  substantial proportions of on-label TREMFYA persisters (n=90) reported clinically meaningful improvements from baseline.
Among these registry participants who reported moderate levels of PsA-related pain prior to starting TREMFYA (n=89, mean baseline score of 57 on a 0-100 mm visual analog scale [VAS]), substantial proportions experienced clinically meaningful improvements in pain. Fully 38% reported a ≥30% reduction (n=33/86) and 40% reported a ≥15-mm reduction (n=33/82).
Participants were evaluated for clinically meaningful improvements in overall joint and skin disease (n=84, mean baseline score of 50.3 VAS), and 47% had a ≥15-mm reduction (n=36/77) in the patient global assessment of arthritis and psoriasis.
Participants' physical function was also assessed (n=89, mean baseline score of 0.9 with Health Assessment Questionnaire Disability Index [HAQ-DI]). Researchers found that 30% (n=21/69) showed clinically meaningful improvements in physical function with HAQ-DI improvement of ≥0.35.
Up to one-quarter of patients achieved the more stringent thresholds of response, generally representing a major response or minimal disease activity, including 26% (n=18/69) with patient global assessment score ≤20-mm, 22% (n=19/86) with ≥50% reduction in pain, 18% (n=14/80) with pain score ≤15 mm and 10% (n=6/58) with HAQ-DI ≤0.5 (all nominal p<0.001).
Mean change in PsA-related fatigue from baseline at six months was -8.8  based on component score of the Bath Ankylosing Spondylitis Disease Activity Index, 0-100 VAS; with a 56.5 baseline score [n=89]).
First Assessment of PsA-5Ts

In the first assessment of the PsA-5T-Ds longitudinal construct validity, in people living with PsA who were bio-naïve or who had an inadequate response to one or two tumor necrosis factor inhibitors (TNFis), this composite score of five patient-reported outcomes showed a strong correlation with the Psoriatic Arthritis Disease Activity Score (PASDAS), a validated instrument that encompasses most core PsA domains, and a good ability to discriminate between those with and without clinically meaningful improvements in disease activity and health-related quality of life.
PsA-5Ts is a simple multidimensional composite measure, assessing self-reported pain, fatigue, physical function, skin problems and depression, recently developed to measure overall health in people living with PsA and correlate with established composite measures.
Changes in PsA-5T-Ds score through week 24 correlated strongly with variations in PASDAS and moderately with variations in Disease Activity Index for PsA (DAPSA), clinical DAPSA and 36-Item short form survey (SF-36) physical component summary (PCS) scores.
Achievement of clinically meaningful improvement in PASDAS, DAPSA, clinical DAPSA and SF-36 PCS score through week 24 was associated with significantly greater improvements in PsA-5T-Ds score vs. nonachievement.
"These new TREMFYA results demonstrate our commitment to addressing symptoms that impact people living with active psoriatic arthritis, including depression, pain, fatigue, physical function and skin problems," adds Terence Rooney, M.D., Vice President, Rheumatology, Immunology Disease Area Leader, Janssen Research & Development, LLC. "It is critical that we evaluate patient-reported outcomes to truly understand the lived experiences of patients and better develop and provide treatments in psoriatic disease."