Autophagy May Influence Disease Course in Rheumatoid Arthritis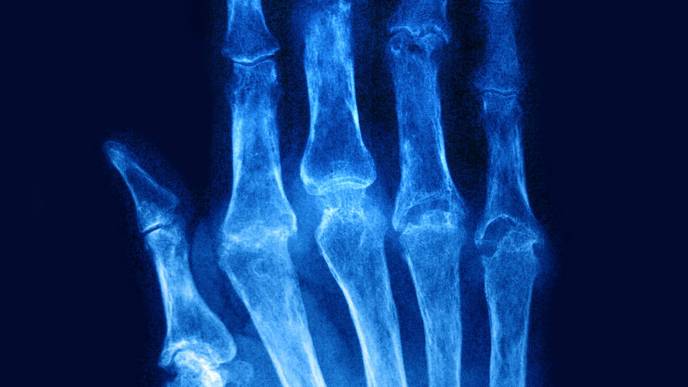 12/27/2018
The success of biologic therapy in RA might be linked to the downregulation of autophagy expression.
Autophagy could be involved in the development of rheumatoid arthritis (RA), according to a study recently published in Arthritis Research & Therapy. The study researchers found a strong association between inflammation and high autophagy and determined that the success of biologic therapy could be related to its role in decreasing autophagy.
This prospective study included 72 participants with RA and 20 healthy controls, all of whom were monitored for various autophagy expression and inflammatory parameters. Autophagy expression and levels of serum cytokine were also compared before and after either biologic therapy or therapy with conventional synthetic disease-modifying antirheumatic drugs. Autophagosomotropic dye was introduced into circulating immune cells, and its mean fluorescence intensity was used to measure autophagosome levels. Flow cytometry was employed to measure levels of p62 expression in immune cells. In peripheral blood mononuclear cells, protein LC3-II and p62 expression were measured using immunoblotting.
Among participants with RA, 61.1% had anticitrullinated peptide antibodies, and 69.4% were positive for rheumatoid factor. Autophagosome was elevated significantly among individuals with RA compared with healthy controls (lymphocytes, 3.6 vs 1.9; monocytes, 11.6 vs 6.0; granulocytes, 64.8 vs 35.8; P
Following a 6-month course of anti-tumor necrosis factor-α therapy, levels of autophagosome in immune cells showed significant decline (lymphocytes, 3.2 to 2.7, P <.05; monocytes, 12.1 to 7.5, P <.005; granulocytes, 60.0 to 48.0, P <.005), which mirrored the reduction in inflammatory measures according to the 28-joint Disease Activity Score (6.0 to 3.9; P <.001).
Limitations included a limited sample size, the possible interference of medications such as corticosteroids, and a lack of evidence of correlating autophagy expression and levels of anticitrullinated peptide antibodies among participants with RA.
The study researchers concluded that "elevated autophagy expression with positive correlation to disease activity and inflammatory parameters in patients with RA suggests the involvement of activated autophagy in the pathogenesis of this disease. Our preliminary results also indicated that the therapeutic effectiveness of biologics may be related at least in part to their downregulation of autophagy expression. The elucidation of the pathogenic role of autophagy in RA may allow for the development of novel pharmaceutical agents in the future."